Suite Impériale
Suite Impériale
218 m² / 2347 sq. ft.
Loading availabilities
Reviving the full splendor of Versailles in central Paris, the Suite Impériale is the jewel in our crown. Its décor has everything to enchant fans of history and fine living alike: an extraordinary space, bas-reliefs, listed woodwork, and an absolutely magical view of Place Vendôme. It's a sumptuous voyage into the French art de vivre an a reminder of an imperial past.
Perfect for entertaining, the largest of our prestige suites offers supreme comfort. Spanning over 200 m2, it includes a living room and two bedrooms, each with its own bathroom and dressing room. There's also a private dining room and kitchen. With a bird's-eye view of the royal square, the suite's lateral layout gives the impression of stepping through time and history.
Private dining room and kitchen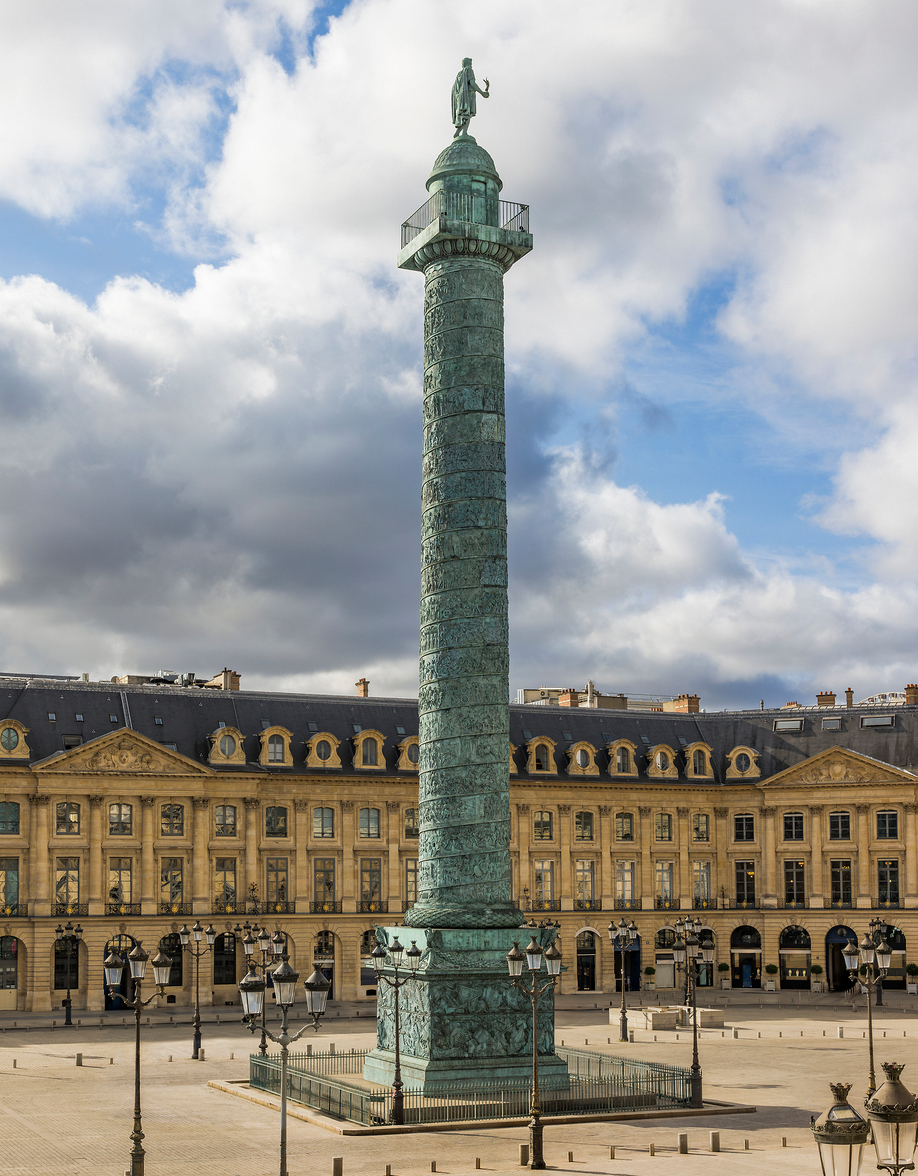 The Imperial Salon
Listed as a historical monument, the reception room is a magnificent tribute to Napoleon, whose bust sits proudly here. With its six-meter high ceilings, this ceremonial setting celebrates France's First Empire. Admire the richness of the furniture and the regal purple of the silken velvet, the bronzes and objets d'art, and the rare sophistication of the Pompeian-inspired ornaments. From the windows, you can contemplate the majesty of Place Vendôme, whose famous column pays tribute to the grandeur of the emperor.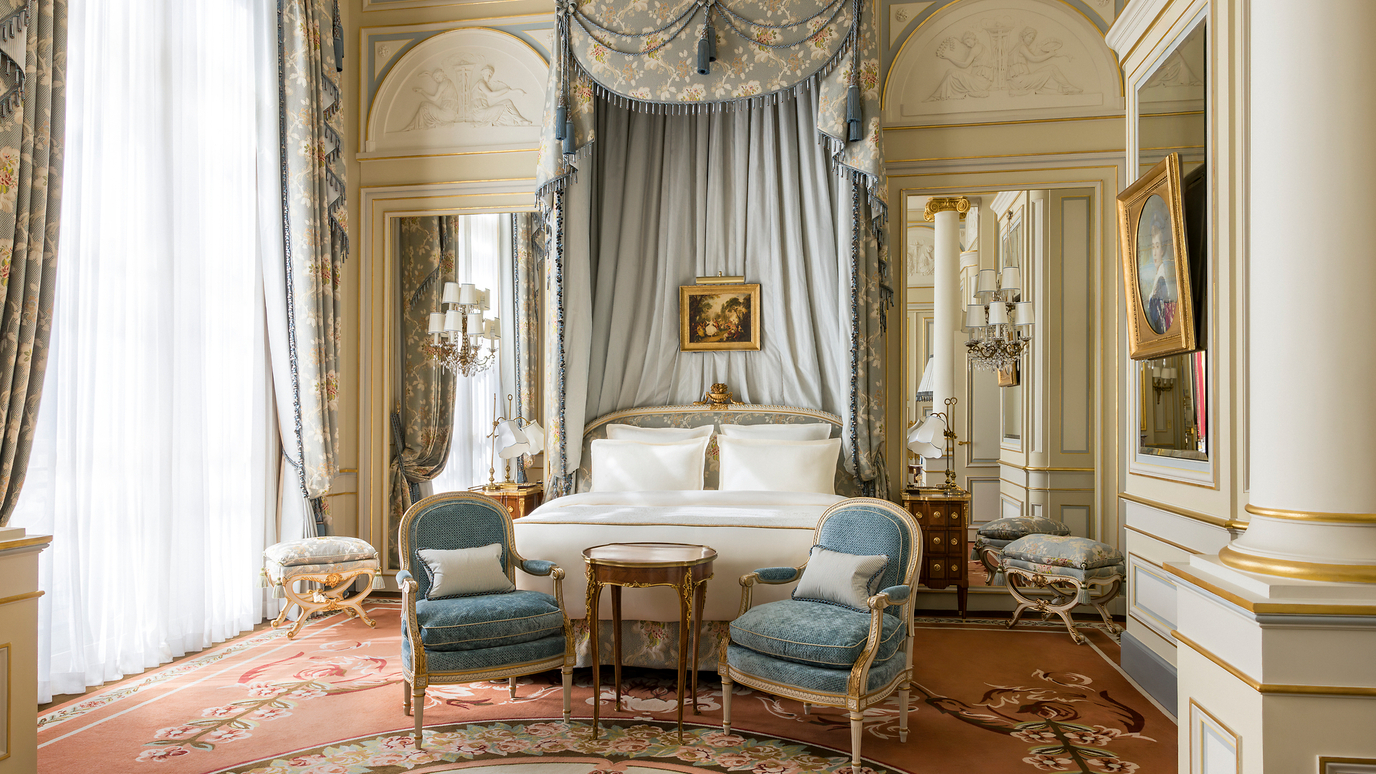 Regal bedrooms
Wake up to the chief splendor of the 18th century... life in a château! In these two superb rooms, bathed in light, opulence meets delicacy. Everything is enchanting: the carved woodwork and fine craftsmanship, the gold leaf work, the silk-draped bedspreads, the antique-style balusters and columns, the interlacing of flowers and trimmings. Amid this abundance of detail, refinement rules. It's all rather impressive.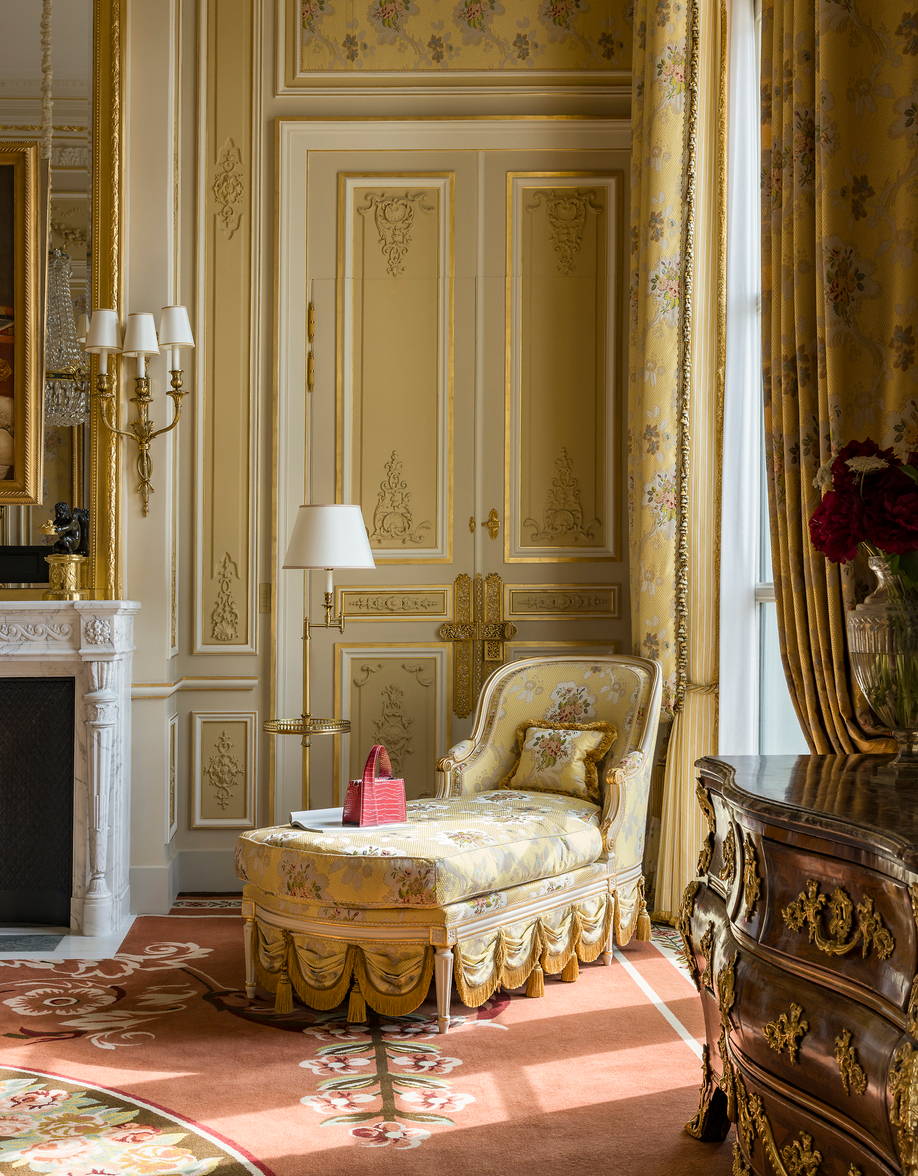 A jewel of a bathroom
A bathroom with actual oak-panelled walls: could you imagine a more welcoming setting for lounging? This listed wood panelling is what makes this room so original, and so beautiful. In this intimate atmosphere, the decor is of the utmost refinement. A luxurious red marble bath set off by gold-plated swan faucets; an ivory dressing table, the mirror adorned with an enchanting ribbon. Beside the bathroom, your dream dressing room awaits.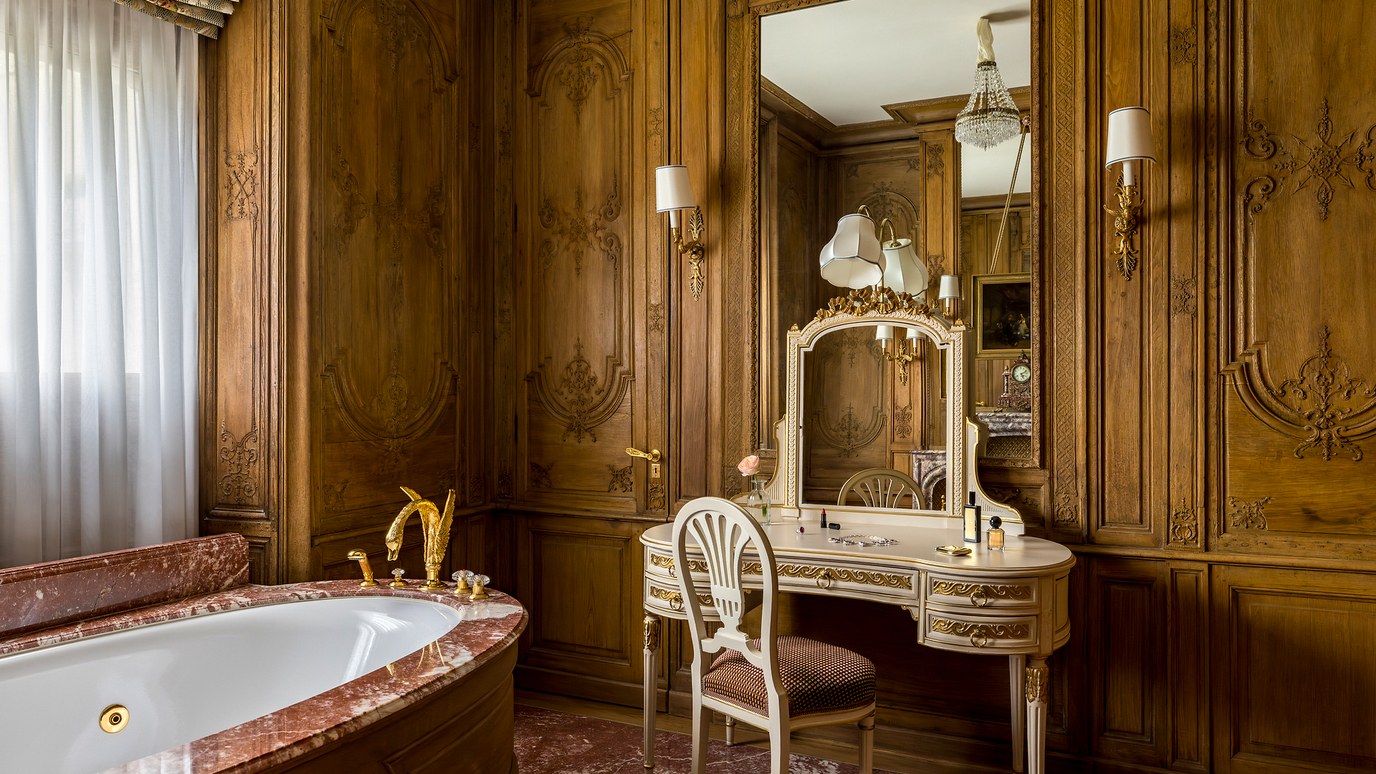 In matters of taste, César Ritz was king. The vision for his hotel was to offer guests the ultimate in luxury and refinement, in a setting conceived as a private residence. The renowned hotelier had a keen eye for what would make this remarkable address both authentic and elegant. With his wife, he visited a number of sites, including the great châteaux of Versailles and Fontainebleau. This provided invaluable inspiration for the creation of his own style: a decor at once eclectic and harmonious, blending the finest classical styles from the 17th century to the Empire.
More information
You will be invoiced by the Ritz Paris with 100% of the total cost of your stay or, where applicable, the total cost of your stay paid prior to your arrival date will be fully retained by the Ritz Paris, as follows:
In the event of a cancellation request after 3pm (local time, Paris) and less than seven (7) days prior to your arrival date ;
In the event of a cancellation request after 3pm (local time, Paris) and less than fifteen (15) days prior to your arrival date due during the following periods: from 12/29/2023 to 12/31/2023, from 01/16/2024 to 01/25/2024, from 02/26/2024 to 03/05/2024, from 06/14/2024 to 06/28/2024, from 09/23/2024 to 10/01/2024, from 12/28/2024 to 12/31/2024:
In the event of a cancellation request after 3pm (Paris local time) and less than thirty (30) days prior to your arrival date due during the period from 07/20/2024 to 07/24/2024.
No cancellations are possible if your stay is due during the period from 07/25/2024 to 08/11/2024.
All our rooms and suites have complimentary wifi access.